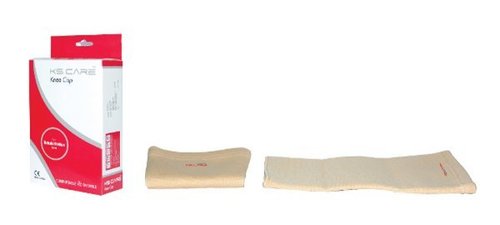 Knee Cap Price And Quantity
80.00 - 90.00 INR

3000 Pair

85 INR
Product Description
Features :
Recommended as a support in weak knee arthritic conditions sport injury and as post surgical rehabilitation care.
Specification :

| | | |
| --- | --- | --- |
| Size | Small | 27.5-32.5 cms / 11-13 inches |
| Size | Medium | 32.5-40 cms / 13-16 inches |
| Size | large | 40-47.5 cms / 16-19 inches |
| Size | XL | 40-47.5 cms / 19-22 inches |
FAQs:
Q: What is a knee cap?
A: knee cap, or patella, is a small, triangular-shaped bone that acts as a shield for the knee joint. It is located at the base of the femur (thigh bone) and runs along the front of the knee joint. It is held in place by tendons and ligaments, and its movements are important for stability and movement of the knee.
Q:What are the symptoms of a knee cap issue?
A: Common symptoms of a knee cap issue include pain, swelling, tenderness, stiffness, or difficulty moving the knee. Pain may be worse when bending or straightening the knee, or when bearing weight on it. In some cases, there may be visible swelling or bruising.
Q: How is a knee cap injury diagnosed?
A: knee cap injury is typically diagnosed through a physical examination, imaging tests (such as an X-ray or MRI scan), and possibly laboratory tests. During the physical examination, your doctor may check for swelling, tenderness, and range of motion. The imaging tests help to determine the extent of the injury and any damage to the surrounding structures. Laboratory tests may be ordered to assess inflammation or infection.
Enter Buying Requirement Details
Other Products in 'Rehabilitation Aids Products' category